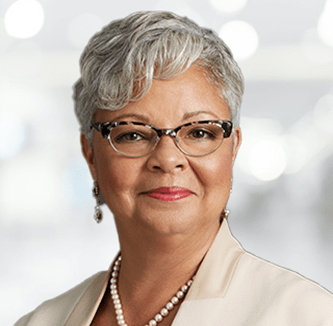 Dr. Freda Lewis-Hall
The accomplished developer of consumer education and medical outreach programs
Tuesday, April 13 | 3-4pm
During her 35-year career in medicine, Dr. Freda Lewis-Hall has been on the frontlines of health care as a clinician, educator, researcher, and leader in the biopharmaceuticals and life sciences industries.  Freda served as Pfizer, Inc.'s Chief Medical Officer and Executive Vice President until the end of 2018 and as Chief Patient Officer and Executive Vice President during 2019.  In these roles, Freda expanded outreach to patients, reshaped the focus on patient engagement and inclusion, improved health information and education, and amplified the voice of the patient within company culture and decision-making.  She was responsible for the safe, effective and appropriate use of Pfizer medicines and vaccines.
Before joining Pfizer, Dr. Lewis-Hall held senior leadership positions of Chief Medical Officer and Executive Vice President, Medicines Development at Vertex Pharmaceuticals; Senior Vice President, US Pharmaceuticals at Bristol Myers Squib;  Vice President, Research and Development, Product Development at Pharmacia Corporation; and, Product Team Leader and Director at Eli Lilly and Company.
Freda currently serves on the Board of Fellows of The Harvard Medical School, the Board of Advisors of the Dell Medical School, the board of the Foundation of the National Institutes of Health, and the Board of Governors for the Patient-Centered Outcomes Research Institute.  She currently serves on the corporate boards of Milliken and Company, a global diversified industrial manufacturer; 1Life Healthcare, Inc., a health services company; Exact Sciences, Inc., a molecular diagnostics company, and SpringWorks Therapeutics, a biopharmaceutical company.
Prior to joining the biopharmaceutical industry, Freda served as vice chairperson and associate professor in the Department of Psychiatry at Howard University College of Medicine and was an advisor to the National Institute of Mental Health.  She earned a B.A. in Natural Sciences from The Johns Hopkins University and an M.D. from Howard University College of Medicine.  She launched her medical career as a practicing physician and then focused her academic research on the effects of health care disparities and the impact of mental illness on families and communities.
Freda is a Distinguished Fellow of the American Psychiatric Association and the Faculty of Pharmaceutical Medicine of the Royal College of Physicians of the United Kingdom. She is a frequent speaker on issues such as improving patient safety and health outcomes, reducing stigma and healthcare disparities, women's health, public health, corporate leadership and diversity.  Freda is an accomplished developer of consumer education and medical outreach programs, including national television and radio shows such as segments on Dr. Phil, The Doctors, THE REAL, TEDMed, The Urban Health Report, and multiple on-line sites.