Exhibit Virtually at AMCP 2021 and Engage with Your Customers
We're anticipating 1,500+ pharmacists, providers, biopharmaceutical science industry professionals and digital health innovators gathering to define the future of managed care pharmacy.
Exhibit at AMCP 2021 and Engage with Your Customers:
Attendance at Nexus 2020 Virtual* exceeded expectations – nearly 1,000 managed care decision-makers attended AMCP's inaugural fully virtual event:
Almost ½ million pageviews on the Nexus platform
Education session count totals: 5,681
4,000+ private messages sent between attendees
Attendees work for 22 of the top 25 health plans in the United States
31% of decision makers are directors, assistant directors, vice presidents, or C-suite
AMCP members influence the health care coverage of the nearly 300 million Americans served by private and public health plans, PBMS, and emerging care models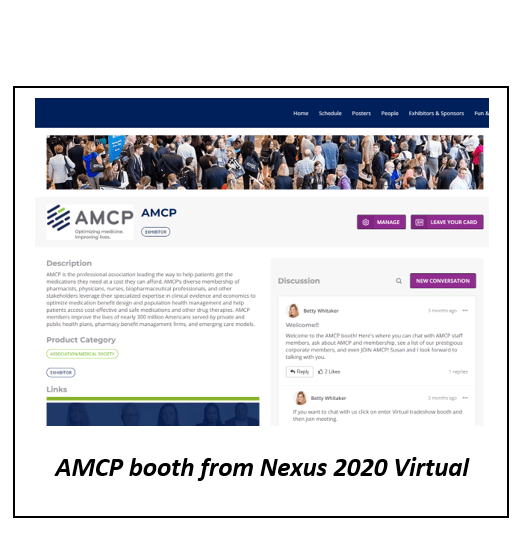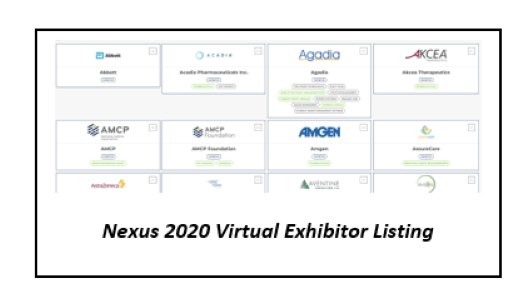 Fifty companies representing the pharmaceutical industry, pharmacy benefit managers, medication therapy management, data analytics and pharmacy services exhibited virtually. Each virtual exhibit page received an average of 56 visitors.
* AMCP spring meeting typically attracts 40-50% more participants than the fall Nexus event.
Maximize Your Investment in Managed Care Pharmacy:
For AMCP corporate members a virtual booth is complimentary
For non-corporate members, a virtual booth is $2,500
Virtual exhibits fees include:
A listing featuring your company's logo on the AMCP 2021 Expo page
A virtual exhibit page featuring company description or message, live video links, company or product collateral, banner artwork and one-on-one chat options
The opportunity for live video chats with attendees based on appointment or during Expo hours.
Real time and post show analytics allowing exhibitors to download demographics, see who visited their exhibit page and/or or entered the virtual exhibit
Three complimentary full meeting registrations
Ability to engage and interact with current and potential customers during COVID-19 restrictions!
Make the Most out of Your Virtual Exhibit Experience:

Promote your participation at AMCP 2021 in advance – on your website, through press releases, pre-show communications
Share exciting, timely videos and collateral in your virtual exhibit
Find unique ways to engage with attendees – message, invite, schedule using the complimentary pre-show Info Only List
Promote your participation on Social Media
Attendees may want to browse but not chat so offer newsletter, demo, or one-on-one sign-ups
Attend networking events, AMCP Foundation Well(ness) activities, topic driven round tables or happy hours – or schedule your own event!
Questions?
Laura K. Larson, CEM
Assistant Director, National Meeting Sales
703-684-2619
llarson@amcp.org
Extend Your Engagement through Sponsorship
Want Additional Virtual Exposure at AMCP 2021? Be a Sponsor!
Extend your engagement at AMCP 2021 by sponsoring a thought leadership, attendee experience or attendee resource function or event.
Sponsorship opportunities include:
Industry Workshops
Science & Innovation Theaters
Partner Sessions
AMCP Foundation's Sunrise Yoga, Stretch and Meditation Sessions
Attendee care packages – mailed and virtual
AMCP Opening General Session - Freda Lewis-Hall
AMCP Critical Conversations
Sponsored attendee emails
Contact Laura at llarson@amcp.org for more information.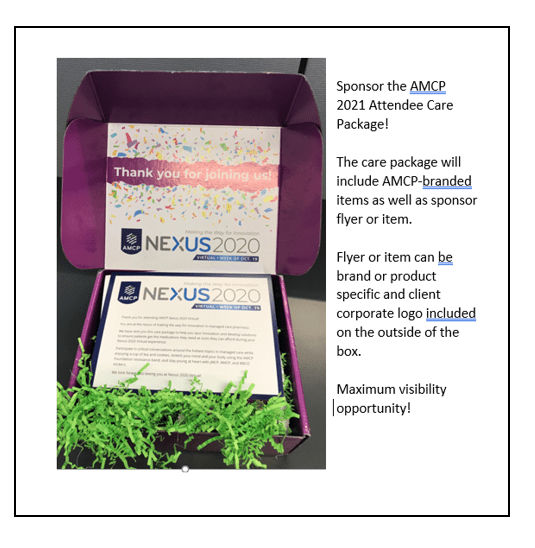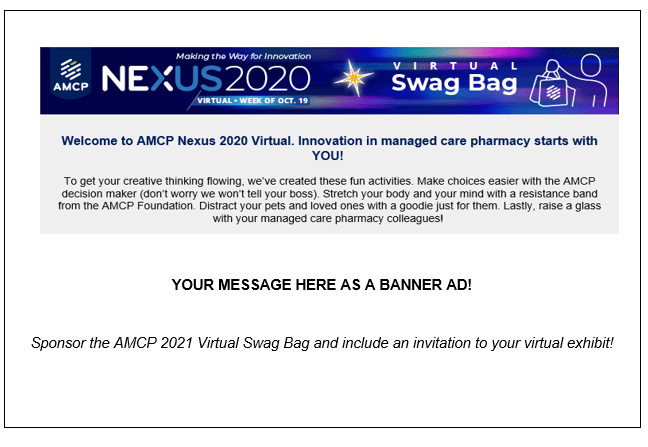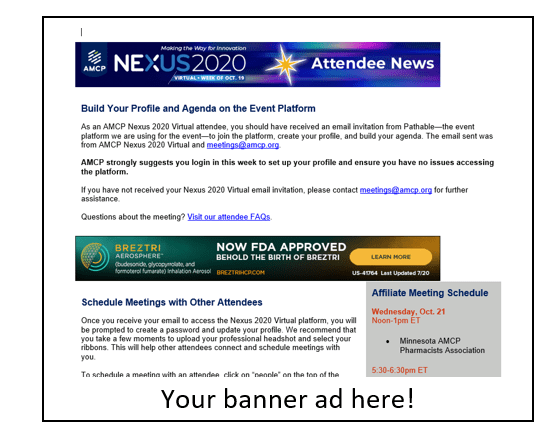 Questions?
Laura K. Larson, CEM
Assistant Director, National Meeting Sales
703-684-2619
llarson@amcp.org